Coming from Vietnam, a country rich in medicinal herb resources and the development of traditional medicine, Hygie & Panacee is a company specializing in researching and producing instant herbal teas derived from medicinal herbs with good medicinal properties. Hygie & Panacee's instant herbal tea products are extracted and formulated according to the technology and process of the pharmaceutical industry to create convenient and effective instant herbal tea packages.
Including 12 types that have been successfully produced, Hygie&Panacee's instant herbal tea is a health solution that meets many needs, such as improving sleep, reducing drunkenness, cooling, increasing resistances, anti-depression, and increasing the secretion of milk (galactopoietic). Some key products of the company namely Hygie prickly pear tea, Hygie lettuce tea, Hygie lemongrass ginger tea, Hygie perilla Tea, Hygie lemon basil tea…
Hygie & Panacee is a famous start-up company in Vietnam, with many great awards for the project "Manufacturing Tea Pharmaceutical – Exploiting medicinal values ​​from agricultural products". The Hygie & Panacee brand is associated with the company's Founder, Pharmacist Doan Thi Hong Tham – who has more than 20 years of experience in the field of pharmaceutical research and has many successes in research and production of drugs from medicinal herbs. The inventor of the cough medicine EUGICA which is widely used all over the world. Hygie & Panacee aims to grow and reach out to the global market, which favors organic products derived from nature with good health benefits.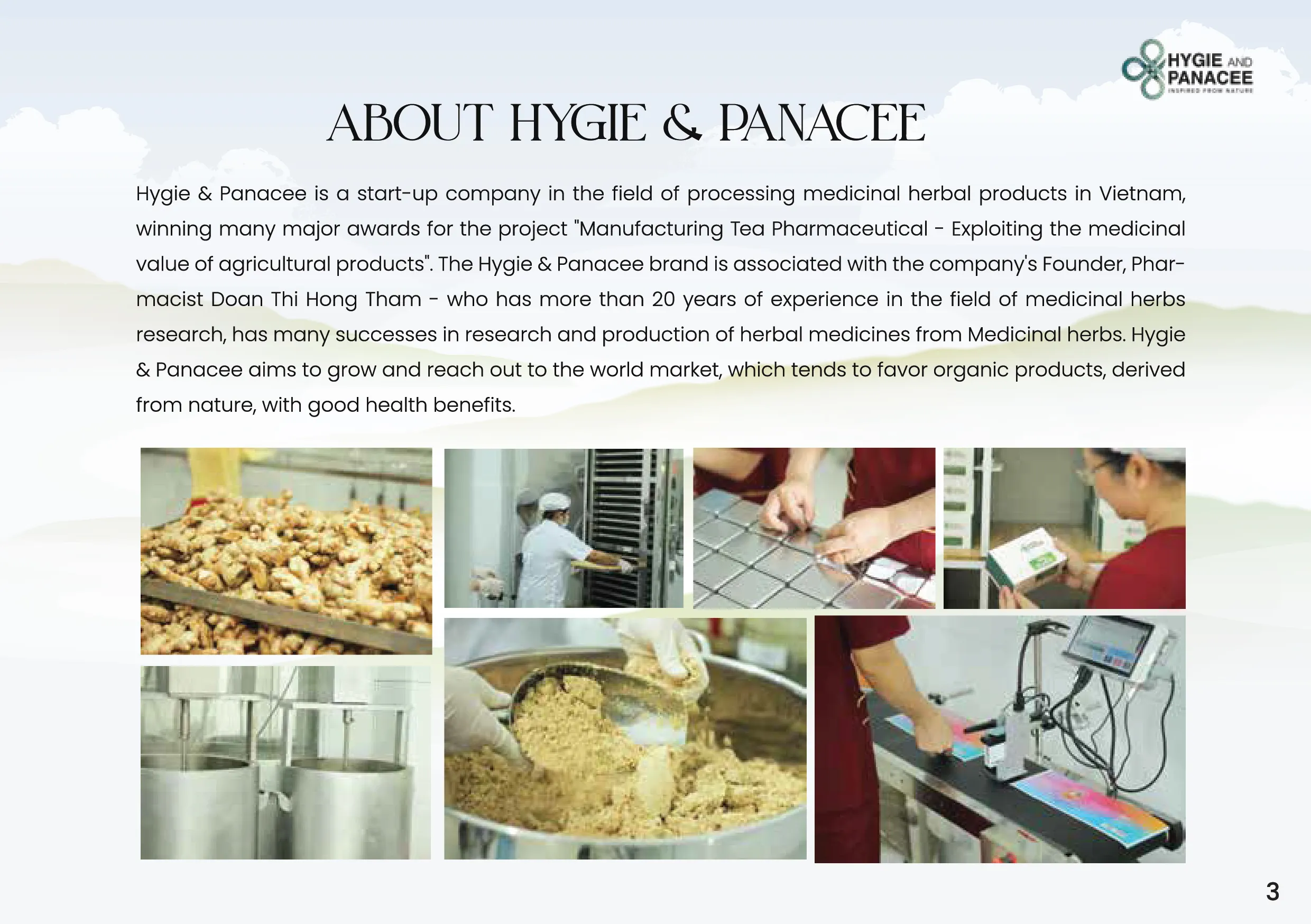 Core Values ​​of Hygie & Panacee
Clean products – Made from 100% Vietnamese agricultural products, reserving medicinal properties ​​​​to protect and improve users' health.
Scientific products – With the extraction and formulation according to the technology and process of the pharmaceutical industry to produce instant herbal tea with a clear raw material origin and ISO 22000: 2018 certified process according to international standards.
Carry out the mission of exploiting and enhancing the medicinal value of Vietnamese agricultural products to serve the needs of improving public health.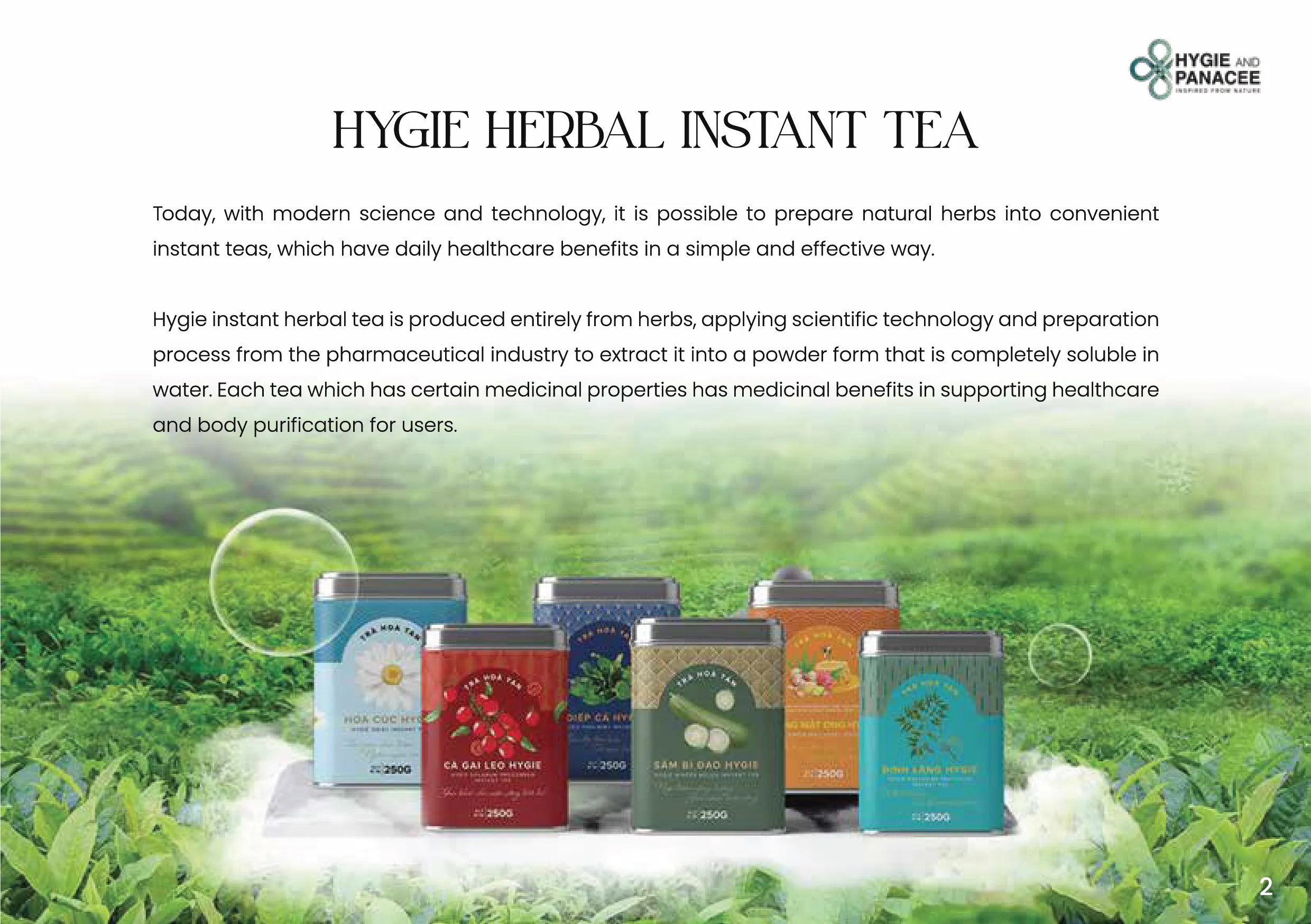 In 2022, Hygie & Panacee aired on a Vietnamese national TV channel within the framework of the Shark Tank program and left a strong impression on customers' minds. Currently, people can easily find and buy products of Hygie & Panacee through a variety of distribution channels such as Website, Facebook, Zalo (One of the most popular social networks in Vietnamese), Tiki, Shopee, Lazada, and Tik Tok shop.
During the process of formation and development, products from Hygie & Panacee have continuously won prestigious awards from experts and customers' preferences. Hygie instant herbal teas meet Vietnam's OCOP 4* standard which is the motive for Hygie & Panacee to make greater efforts to affirm its position in the hearts of domestic customers and constantly reach out in the global market.
Discover Hygie & Panacee Instant Herbal Teas at the website: duoclieumientay.com